Estimated reading time:
1 min
View Attendance Summary
Users with Admin credentials can manage the staff attendance record. These records can be accessed via HR > Attendance. Inside here, the user can view all staff attendance records.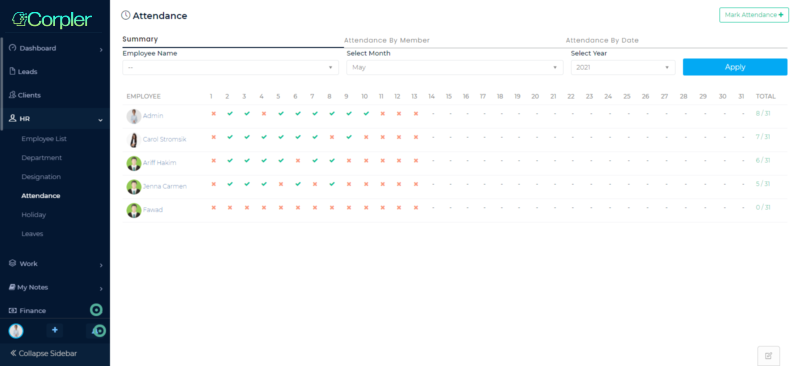 To filter the attendance record by employee name, month and year, click on each of the drop-down selection buttons to filter and click Apply to confirm the requested changes.
Update Attendance Records
To update the staff attendance record, click on the absent button. Then the user can see this pop-up message.

Users then can see an option to adjust the clock in and clock out time.
If the staff is late, the admin user can mark it as Late.
If the staff is working half-day, the admin user can mark it as Half-Day.
The Clock In IP and the Clock Out IP is automatically detected from the user's existing location.
View Attendance Records
Admin users can view each staff attendance record by clicking on the attend button.

Admin users can see the summary record of working hours duration and details of each time staff clocked in and clocked out for a given day.
The admin user also has an option to view all member attendance and the summary of:
Total Working Days
Days Present
Days Late
Half Day
Days Absent
Holidays